Verily it is heavenly anticipation. Book and written art on texts by Friedrich Hölderlin
The Klingspor Museum was to be one of the hosts of the 2020 Aepm annual conference. But, as you can imagine, the conference has been cancelled because of the coronavirus outbreak and the Museum is closed to the public until further notice. We had been greatly looking forward to showing you our latest exhibition Wahrlich! es ist Himmelsvorgenuß. Buch- und Schriftkunst zu Friedrich Hölderlin showing book art and calligraphy from the 1930s through to 2010. The exhibition refers to Friedrich Hölderlin who was born 250 years ago. Hölderlin was one of the great figures of the German language. Reaching out to make links between culture, politics and a civilized approach to society, from a position somewhere between German classical and romantic literature, Hölderlin offers us answers to many questions posed in more recent times. Today's artists continue to be inspired by Hölderlin and to dialogue with his life and poetic works. An engagement which is all the more significant because Hölderlin saw himself as suffering from the indifference of society in much the same way as many artists have felt since his time. With the result that there is considerable resonance among the works shown in the Klingspor Museum's exhibition.
As you were unable to see the exhibition either because you had planned to the Aepm conference, or simply because you were going to be visiting Offenbach, we are offering a little taste of it in the form of a selection of photographs accompanied by the text which presented the show and some statements by the participating artists.
We are also including Stefan Soltek and Monika Jäger's Facebook posts which will provide a step by step guide to the exhibition. We hope that you will forgive us for including some one-of-a-kind, non-printed items from the Klingspor Museum's extensive collection of the 'art of writing' which in addition to the book arts also covers the arts of writing and manuscripts.
---
Take a quick video tour of the exhibition…
---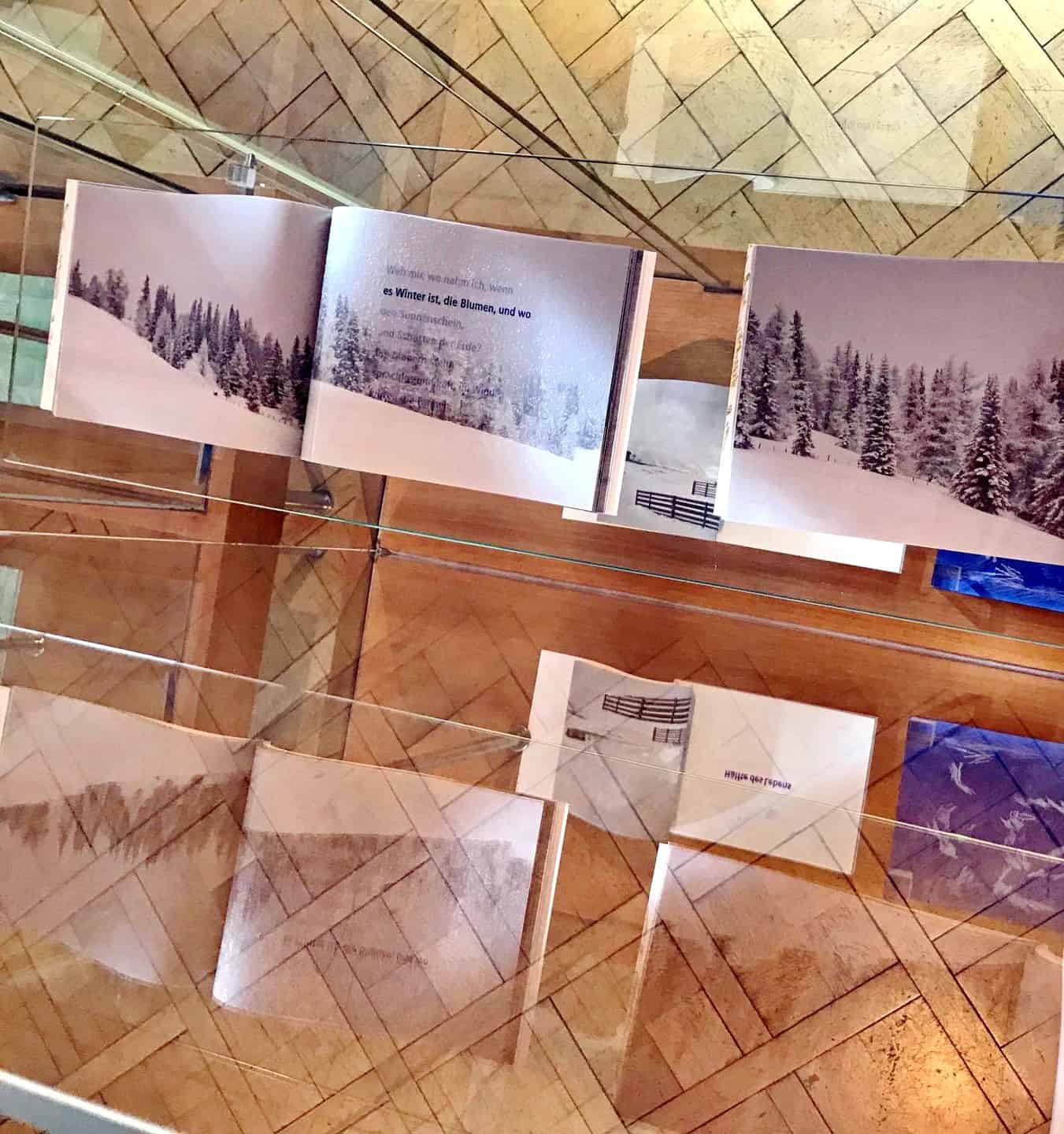 ---
Presentation of the exhibition
Verily it is heavenly anticipation. Book and written art on texts by Friedrich Hölderlin
This quotation from Hölderlin's poem Lorbeer of 1788 was chosen in order to include the exhibited works of book and written art in that what is heavenly pleasure.
Hölderlin (1770–1843) is one of the many protagonists who researched, thought and wrote poetry in the period around 1800. He lived in the epoch that is essentially meant when German poets and thinkers are spoken of.
He studied philosophy, was an intense reader of Greek mythology and, as a poet, continually developed his language.
He did not capture all events, all contents he was concerned with in visual images, but, instead, in words. In doing so, however, he developed his handling of words in such a way that they went far beyond the usual use in the sense of good comprehensibility. He was always looking for new ways to make what seemed more tangible than comprehensible to him sound linguistically at the same time. When he came to the limit of what could be explained, it was then his concern to put this limit between the comprehensible and the predictable into words.
Possibly this is the terrain that language seeks to reach, that attracts those whose means of expression is the figurative and especially the written image.
The course of words in favour of sentences, passages and plot lines, allusions – these linear functions are, in their own way, inherent in the written. Script pursues the statements that it wants to convey. Script has always also been understood as symbolic. Increasing its progressional character and making it visible as a time-spatial phenomenon is what medieval monks such as Hrabanus Maurus wanted to do in their word compositions, as did the writers of the Renaissance, Baroque and Rococo who created labyrinths of writing. Some illustrators of the 19th and 20th centuries had the same intention, modulating words into eloquent figures; likewise, concrete and visual poetry lives off this idea.
Hölderlin had a special relationship to the phenomenon of movement. So come! That we look into the open – that is a line from the poem Brot und Wein, which alone is full of passages describing a dynamic back and forth. It is always about the alternation between the mythological and the present, the cognitive and the feeling. The relationship between the human and the divine. Dorther kommt und zurück deutet der kommende Geist (From there comes and points back the coming spirit). (End of the third verse.)
The art works in this exhibition can be viewed in this sense of the dynamic, the undefined.
Petra Ober executes figures in her sweeping, roundly swinging script that take the flow of the text and its thoughts with them. Anja Harms and Eberhard Müller-Fries refer to Hölderlin's fragment 92: wie Wolken um die Zeiten legt (as clouds laid around the times) and with their QR Code they translate the moment of the particular, gradual veiling into a medium of the present. Corinna Krebber pursues the poem Mnemosyne; with its difficult opening formula of the sign without meaning. She stages the elusive procedure of remembering, losing oneself and wanting to find oneself again, as word bands that wind around themselves, cover, expose, as a figure of incompleteness – memory can do no more.
One way to describe this is his Empedocles. The philosopher's back and forth conflict in his dealings with the people he is supposed to lead but yet cannot, is consummated as a path of failure, up until the thinker throws himself into the crater of Mount Etna.
In their way in the flow of movement and change are the seasons in which Hölderlin wrote some of his later poems. The two books by Peter Malutzki and Till Verclas capture the corresponding atmosphere of nature.
Thus, if the artistic examination overlaps with the impression of the mobile, the unfinished, then this happens in the sense of what Hölderlin says at the end of his poem Lebenslauf: Alles prüfe der Mensch … Und verstehe die Freiheit, aufzubrechen, wohin er will. (Let man examine all… And understand the liberty to go wherever he wants.)
---
Johann Christian Friedrich Hölderlin, 1770–1843
Johann Christian Friedrich Hölderlin was born on 20 March 1770 in Lauffen am Neckar.
His father, an academically educated administrator, monastery steward, died as early as 1772. His mother, Johanna Christiana, née Heyn, married Johann Christoph Gok, who soon died in 1779. Hölderlin remained closely connected to his mother, as shown by his many letters.
In 1784 to 1793, after the Nürtingen Latin School, he attended the lower monastery school in Denkendorf, where he wrote his first poems, and since 1786 the higher monastery school in Maulbronn. After studying philosophy in Tübingen Abbey at the side of Georg Friedrich Hegel, he began to study theology in 1790. Preferred reading: Spinoza, Leibniz, Rousseau, Herder, Kant. First nature and friendship poems are written. His work History of the Fine Arts under the Greeks shows his pointed interest in Greek mythology. Hölderlin sympathised with the aims of the French Revolution. To his sister he writes in 1792: Pray for the French, the
defenders of human rights.
In connection with Schiller's poetry, the Tübinger Hymnen were written by 1793.
1793: Acquaintance with the writer and diplomat Isaak von Sinclair, through his law studies at the University of Tübingen. The encounter resulted in a long-lasting friendship.
In 1796, through the mediation of the natural scientist Johann Gottfried Ebel, he was appointed as master of household to the banker Jakob Friedrich Gontard in Frankfurt. The encounter with the banker's wife, Susette, née Borkenstein (1769–1802), made the Frankfurt years a particularly happy and productive time in his life. Without the husband, the Gontards flee with Hölderlin to Kassel to escape the advancing French. In September Hölderlin returned to Frankfurt am Main.
The discovery of his love affair with Susette (called Diotima in his works), and probably the argument he had with her husband about it, led to his dismissal without notice in September 1798. With the help of his friend Isaak von Sinclair, Hölderlin finds a livelihood in Bad Homburg.
1794–1797: Master of household with the von Kalb family in Waltershausen. Travel and stay in Jena. Acquaintance with Friedrich Schiller, also with Johann Wolfgang von Goethe, who, patronisingly, advises him to write little poems. Schiller establishes contact with the publisher Cotta, Stuttgart, who publishes Hölderlin's central epistolary novel Hyperion in 1797. The second volume will follow not until 1799. He meets Fichte and Novalis. In his odes Hölderlin's world view finds expression, which is oriented towards ancient pantheism, Spinoza and the nature cult of Rousseau.
January 1799: Work begins on the tragedy The Death of Empedocles. The basis is the treatise of the late antique philosophy historian Diogenes Laertius on the philosopher, orator and politician Empedocles in the Sicilian town of Agrigento. His legendary self-chosen death in the crater of Etna concludes the religious drama. After the Frankfurt plan, two versions follow, both fragmentary.
1801–1802: Work as a tutor in Hauptwil (Switzerland) and in Bordeaux. Beginning of the translation of the Trauerspiele des Sophocles, published by Friedrich Wilman in 1803.
1804: Isaak von Sinclair helps Hölderlin to return to Bad Homburg, enabling him to be employed as court librarian. Involved in the friend's high treason trial, the poet is saved from conviction by an expert opinion: Madness as a cause of frenzy.
The hymns of the years 1800–1806 pave the way for Hölderlin's recognition to this day. They are based on the Greek poet Pindar (6th/5th century B.C.) in terms of structure and rhythm of the verses.
1805: After a nervous breakdown Hölderlin is moved to Tübingen. The mentally ill man is treated in the clinic of Johann Heinrich von Autenrieth. Convinced that Hölderlin has only three years to live, the doctor places him in the care of the carpenter family Ernst Zimmer in 1807. Over the following 36 years, the family's daughter Lotte in particular took care of the resident of the tower. He spends the rest of his life, almost half of it, in this place. Regular visits by the writer Wilhelm Waiblinger encourage Hölderlin's writing.
In 1826 the first edition of his works is published by Gustav Schwab and Ludwig Uhland.
7. June 1843, the poet dies in Tübingen in today's memorial, the Hölderlin Tower.
---
Biographies of the artists in the show
Corinna Krebber, 1963.. (Mühlheim/Ruhr)
After completing her studies of architecture in Würzburg in 1989, she worked as a freelance architect. This was followed by studies in fine arts at the Alanus-Hochschule, Alfter near Bonn. She has been working as a freelance artist in Frankfurt am Main since 2006 and is a lecturer at the Alanus-Hochschule Alfter near Bonn. In 2009 she received the art award of the city of Limburg. Hernumerous solo exhibitions include the 2009 exhibition at the Klingspor Museum, where she later installed four lines of text under the heading ZwischenEngeundWeite in the courtyard. This will be followed in November 2019 by the architectural drawing Lineaturen.
Corinna Krebber comes to writing on a path away from typography and calligraphy. Rather, she considers her letters and writing to be spatially conceivable and interpretable structures; in combination with the study of architectural theory and philosophy. Transforming language into writing, questioning alternatives to the conventional appearance of the line-by-line writing in the book, leads to prudent, tentative and (paper) incisive explorations into the possibilities of space-encompassing writing.
Petra Ober, 1963-..
Born in Bad Reichenhall, Petra Ober lives in Frankfurt am Main and Pfarrwerfen in Austria. Her studies at the Academy of Fine Arts in Munich from 1973 to 1979 were followed by numerous exhibitions and participation in group shows. Her artist books are mostly characterized by her intense, papersoaking handling of colour. She always finds new ways of setting and placing her texts word by word into and onto the colour bed of the pages, thus expanding the reading to a sensual process of perception. Solo exhibition at the Klingspor Museum in 2011.
The world of colour in the book art of Petra Ober takes a different path. Painted, tone in tone, there is no assignment of symbolic values. It is the effect of the colour accumulation itself that is communicated, and only inasmuch as it takes place within the framework of the pages of the book, it is a kind of LesArt (art of reading). Otherwise, the contrast to the literal is evident, the sensitivity for the seeing and understanding eye is addressed. A basic tone is created into which the literary author's word resonates, searching for a wave-length within the stream of colour gradients. Linear meaning is subject to the exuberance of colour depths and the sensuality that makes them rise.
Robert Schwarz, 1953-..
1951 born in Ludwigshafen on the Rhine. Since graduating from the Universities of Heidelberg and Mainz in art history and art education in 1980, Robert Schwarz has lived in Mainz. His work focuses on prints (lithography) and the artist book. 1977 Scholarship of the city of Ludwigshafen. Since 1980 freelance work in Mainz, where he received the honour as City Printer in 1989. Before that, in 1984, he received the Promotion Prize of the State of Rhineland-Palatinate, followed in 1987 by the Casa Bladi Scholarship, Olevano in Italy, and in 1993 the Albert Hausisen Prize. In 1998 Schwarz received the scholarship Cité des Arts, Paris, and the Palatinate Prize for Graphic Art in Kaiserslautern.
Robert Schwarz develops his pictorial language mainly in the technique of colour lithography, which he creates as multilayered
colour spaces in combination with selected, often collaged papers. His books are produced in small editions, often as a unique series. Friedrich Hölderlin plays a special role among the authors he has chosen. With his life and work, the eloquence of the poet, but also with the feeling of not being sufficiently understood and accepted, Schwarz seeks a confrontation that has lasted for years. Solo exhibition and several extensive participations at the Klingspor Museum.
Anja Harms, 1951-..
Born in Bad Homburg, Germany, the freelance artist and graphic designer, with a focus on artists' books, completed her studies in book art at the Hochschule für Gestaltung Offenbach am Main in 1988. Since then her works have been presented annually at the Frankfurt Book Fair. After her work with the sculptor Christian Peschke, until 1993, she was a member of the artists' group Unica T from 1996 to 2001. Among her awards are numerous prizes from the Stiftung Buchkunst in the competition The Most Beautiful Books, silver and bronze medals in the international competition The Most Beautiful Books from all over the World as well as the Walter-Tiemann-Prize (as a member of the artist group Unica T).
Her creative work has been honoured in successful competitions, including Corporate Design for the Haus der Geschichte Baden-Württemberg in Stuttgart and Die Kleine Reihe of the Büchergilde Gutenberg in Frankfurt am Main. She is an honorary member of the Kalevala Society in Helsinki.
Selected typography and an unmistakable hatching and flat reliefs in linocut give her books form and esprit. Since 2011 she has been working with Eberhard Müller-Fries and developing new relationships between book and sculpture. Solo exhibition at the Klingspor Museum 2005 and 2014.
Eberhard Müller-Fries, 1960-..
Studied art education in Frankfurt, sculpture, ceramics and graphics at the Werkkunstschule Wiesbaden with Oswald Michel and Margot Münster, diploma.
Since 1983 freelance artistic activity, main focus of work: Ceramic sculpture, wood sculptures, art projects in the public space. Since 1994 sound art sculptures, artist books and book objects.
Art projects with children and young people. Lecturer in teacher training, since 1983 numerous solo and group exhibitions in Germany and abroad. Cultural Prize of the city of Oberursel 1989. Member of the Federal Association of Visual Artists Frankfurt am Main.
Since 2011 collaboration with Anja Harms in the field of artist book and installation.
Till Verclas, 1953-..
Born 1953 in Düsseldorf, Till Verclas lives in Hamburg. Studied copperplate printing with Hermann Kätelhön in Westphalia. From 1976 to 1982 he studied painting at the University of Fine Arts in Hamburg.
While still a student, he founded his own copperplate printing shop in 1979, which he runs until it is handed over to his employees in 2010. In the copperplate printing shop, which he operated alongside his own artistic work, he worked (from 1985 to 1991 together with Henning Bergmann) for artists such as Georg Baselitz, Jörg Immendorff, Günther Förg, Albert Oehlen, Rosemarie Trockel, Cy Twombly, Christo, Joseph Kosuth, Dan Flavin and many others.
In addition to his work as a sculptor, he founded his press Un Anno Un Libro in 1991, in which an artist's book with his work is published every year. In 2014 the Kunsthalle Wedel, a new large studio with show-room in Wedel near Hamburg, was built.
Julije Knifer, 1953-..
Julije Knifer was born in Osijek in 1924 and died in Paris in 2004. He was a co-founder of the Gorgona-Group, that gave important impulses for contemporary Croatian art in Zagreb from 1959 to 1966.
In the 1960s, Knifer focused on the meander as the only formal element in his art. Julije Knifer is the most important Croatian artist of the Gorgona-Group, alongside artists such as Iwan Kozaric, Dimitriji Basicevic, Juraj Dobrovic, and Vjenceslav Richter.
---
Reflections on the works shown in the exhibition
Facebook posts (in German only) by Stefan Soltek and Monika Jäger.
19.3.20
Die zwangsläufig unbesuchte Ausstellung im Klingspor Museum zur Feier des diesjährigen Literatur-Jubilars Friedrich Hölderlin enthält diese beiden Skripturen von Rudo Spemann. Der Großmeister der Kalligraphie demonstriert hier nicht nur, wie wunderbar Hölderlin Gedanken fassen konnte, sondern was deren Übertragung in Schrift zu ihrer erhöhten Virulenz leisten kann. Genaues Hinsehen zeigt, wie er bei der Formung seiner Schwünge und der Komposition der Worte auf die Inhalte "Gefahr" einerseits und "Gott, Mensch" andererseits einmal Spannung, das andere Mal Harmonie walten lässt. Spemanns überreiches Oeuvre bildet einen Grundstock unserer Offenbacher Sammlung exquisiter Handschriften – wofür man nur dankbar sein kann. Sieht altmodisch aus? Erscheint mir wegweisend! – weniger Gefahr, gar Rettung – mit diesem Wunsch grüße ich Euch herzlich Stefan.
---
21.3.20
Ich habe den Hölderlin-Artikel von Michael Hierholzer (FAZ, 20.3.) gelesen. "Nichts könnte der Gegenwart ferner sein als die Dichtung Friedrich Hölderlins", lautet der Anfang. Eindrucksvoll, wie er mit knappen Bemerkungen die Schwierigkeiten aufzeigt, den Themen und der Sprache Hölderlins zu folgen. "Dunkle Worte allenthalben…seltsame Chiffren" – doch unterschätzen wir nicht die Anziehungskraft dieser Fremdartigkeit, die auch 250 Jahre nach der Geburt des Dichters anlockt. Die dunklen Worte und seltsamen Chiffren, die Corinna Krebber aus dem Textverlauf von "Mnemosyne" – eines dieser schwer fassbaren Gedichte – mit dem Messer herausgeschnitten hat, gehen minutiös dem nach, wie Hölderlin seine Vorstellung von Erinnerung beginnt: "Ein Zeichen sind wir, deutungslos… und haben fast die Sprache in der Fremde verloren… und Ströme müssen den Pfad sich suchen" – ist uns das so fremd, dass wir uns in unseren Versuchen des Erinnerns nicht zurechtfinden, ohne Deutung bleiben , das Nachsuchen in diesem Erinnern-Wollen sich seinen Pfad suchen muss? Krebber hat sich diesem Vorgang – einschneidend – verschrieben. Jeder Buchstabe, jedes Wort kettet sich ans andere, ein Strom des immerwährenden Einlesens, das sich – wie das Gehirn selber – windet und nichts genau benennt, aber zum Zeichen wird- so diffus wie bestechend. Auf diese Weise macht Schriftkunst klar, dass es keinen Text gibt, sondern immer nur eine bestimmte, gewählte Erscheinungsform seiner Buchstaben und Wörter – manche erweitern die Lektüre zur Einsicht… – vielleicht ist unsere Ausstellung im Klingspor Museum bald nach dem 20.4. zu besuchen… (und Ströme von Besuchern müssen den Pfad sich suchen…).
---
22.3.20
Nun hängt auch das Plakat zu unserer Hölderlin-Ausstellung an den Litfaßsäulen – ganz umsonst, da doch das Klingspor Museum nicht zu besuchen ist? Nein! Erstens lohnt es überhaupt, auch per Bild, an den Dichter aus ferner Zeit zu erinnern, der bis heute für das Verständnis dessen, was Sprache eigentlich ist, wie sie in der Lage ist, Gedanken und Gefühle zu bewegen, so viel zu sagen hat. Als ein Influencer par excellence! Ein Gott ist dieser Mensch, wenn er sich bis an die Grenze des Sagbaren veräußert; Bettler wären wir, könnten wir das übersehen…. Das Plakat – wie immer für das Klingspor Museum vom renommierten Designer Uwe Loesch geschaffen – taucht den Dichter in leuchtende Farbe, damit er nahe auf uns zu kommt. Porträtiert hat ihn 1792, als 22jährigen, Franz Carl Hiemer. Das Pastel befand die Schwester zwar nicht für sehr naturgetreu, es setzte sich aber als d i e Bildwiedergabe Hölderlins durch. Der Farbverlauf auf dem Plakat greift eine Darstellungsweise auf, die sich in den 70er Jahren unter dem Stichwort psychedelische Kunst etablierte. Natürlich wird damit von Loesch die viel diskutierte geistig-körperliche Verfassung Hölderlins reklamiert – natürlich gehört sie zu dem, was für die Rezeption von Person und Werk des Poeten kaum an Brisanz verliert. Aber auch die Schrift des Plakats ist mehr als Informationsmittel, sondern bietet sich als Merk-Mal der Bildsprache an. Wie eine Membran liegt sie vor dem Antlitz, besagt das Ungefähre, das jeder Rückgriff auf die Quelle, den Menschen, sein Werk in Kauf nehmen muss. Aus dem nuanciert gesetzten Gitterwerk der Worte schiebt sich der Vornahme so zur Seite, dass wenigstens partieller Durchblick entsteht. Soviel Unmittelbarkeit, Gewissheit des Zugehens auf den Vielbeschworenen und -bewunderten soll doch sein! All seine Plakate versteht Loesch als ein bewegliches Instrument des Annäherns und Abstandgewinnens; umso eher gelingt das – visuell geförderte – gedankliche Erwägen; Sich-Besinnen des jeweiligen Themas… So mag auch dieses Plakat der Auseinandersetzung mit Hölderlin gut tun –
Sie hätten gern dieses Plakat für sich? Warum nicht! Schreiben Sie mir Ihren Wunsch, mit Anschrift, dann schicke ich es Ihnen zu, sicher, dass Sie bei Gelegenheit dem Museum eine Spende dafür zukommen lassen. Eine gute Woche, auf gutes Gelingen… herzlichen Gruß Stefan Soltek
---
27.3.20
1797 entwirft Friedrich Hölderlin Plan und drei Versionen (Entwürfe) zum Trauerspiel um den antiken Philosophen, Redner und politischen Lenker der Stadt Agrigent Empedokles. Seine Vita hat der Autor Diogenes Laertius im 3. Jahrhundert aufgezeichnet. Hölderlin fasst Charakter und Wesen seines Protagonisten so zusammen: "Empedokles, durch sein Gemüth und seine Philosophie schon längst zu Kulturhaß gestimmt, zu Verachtung alles sehr bestimmten Geschäffts…ein Todtfeind aller einseitigen Existenz, …unbefriedigt, unstät, leidend…Der Horizont sei ihm nur zu enge, er müsse fort, um höher sich zu stellen…"
Dieser Auszug aus dem Plan zu seinem Trauerspiel lässt erkennen, wie Hölderlin um Position ringt; die Position des Denkers und Lenkers, dem das Volk seine selbsterklärte Gottgleichheit verübelt, von einigen gleichwohl zum Bleiben ermahnt, der sich dann aber abwendet. Und in den Ätna stürzt (Legende). Parallelen bestehen zum Autor: Wo gehört er hin, von Goethe klein gehalten, von Schiller halbherzig unterstützt. Wie findet er seinen Ort zwischen Lyrik und Philosophie, zwischen dem christlichen Gott und den Göttern der griechischen Antike; wie Verständnis für seine auffliegende Sprechweise, das Göttliche dieses sagenhaften Griechenlands in ein geistiges Bewusstsein der Menschen seiner Zeit zu übersetzen?
Ist das nicht beispielhaft für Künstlerinnen und Künstler überhaupt, dass sie auf jeweils ihre Art um ihren Standort und -punkt ringen? Bemüht um eine höhere Warte, von der aus sie für ihren Ausdruck, ihre Kunst Wirkung erhoffen? Überzeugt, etwas Grundlegendes zu sagen, zu zeigen zu haben.
Robert Schwarz wurde 1989 Mainzer Stadtdrucker, seine opulenten, kraftvollen Bücher verteilen sich über zahlreiche renommierte Sammlungen. So sehr vertiefte er sich in den Empedokles, dass er vier Buch-Fassungen, jedes Mal den ganzen Text des Stücks aufnehmend, druckte; Lithographien auf Bütten oder collagierten Packpapierbögen, in unterschiedlichen Tonlagen, bald konzentrierter, bald extrovertierter Natur. Jeweils schafft er durch die blätterbaren Seiten und den Wechsel von Hell und Dunkel, geometrisch konstruierter und farbgestischer Formulierung einen vibrierenden Zeit-Raum, in dem das Spiel der gedanklichen und emotionalen Kräfte des Stücks eine eigene Präsenz und Dringlichkeit erfährt. Aber Schwarz geht weiter, dient nicht dem Text des Dichters, sondern dichtet, gleichsam als druckender Leser seine eigene Welt-Anschauung. Intensiv wie sie ist, nimmt sie uns mit.
---
28.3.20
Die Nachrichten hellen sich nicht auf. Aber in der Sonne blühen auch gute Gedanken. Meine kleine Hölderlin-Folge bleibt kurz, und will aufmuntern. Pausanias ist verzagt: … und bänger denn zuvor ist jetzt die Sorge… doch Empedokles bremst ihn:…Lass die Klage nun…mit der Zeit ist alles gut… – lieber Friedrich Hölderlin: recht so; will es mir zu Herzen nehmen. – ein erfreuliches Wochenende Ihr/Euer Stefan S. Bilder: R. Schwarz, Empedokles, Künstlerbuch in der Ausstellung "Himmelsvorgenuss", im Klingspor Museum Offenbach, geöffnet, hoffentlich, ab 22.4.
---
30.3.20
Friedrich Hölderlin
Hälfte des Lebens
Mit gelben Birnen hänget
Und voll mit wilden Rosen
Das Land in den See,
Ihr holden Schwäne
Und trunken von Küssen
Tunkt ihr das Haupt
Ins heilignüchterne Wasser.
Weh mir, wo nehm' ich, wenn
Es Winter ist, die Blumen, und wo
Den Sonnenschein,
Und Schatten der Erde?
Die Mauern stehn
Sprachlos und kalt, im Winde
Klirren die Fahnen.
1804 schreibt Hölderlin eines seiner bekanntesten Gedichte. Als ahnte er, ziemlich genau in der Mitte seines Lebens zu stehen. Zurück (Strophe 1) wendet sich der Blick auf eine schier überbordende, schwelgerische Szenerie. Frucht- und blumenreich das Land, trunken von Hingabe die Schwäne. Dann (Strophe 2) bricht jäh der Winter herein und mit ihm die bange Frage nach dem, was fehlt. Umso schroffer, ungerührt, die Mauern und die klirrenden Fahnen, im Wind. Dieses Erstarren fasst Till Verclas, versierter Druck- und Buchkünstler in Hamburg, mit Hilfe eisiger Winterbilder zu seinem "Winterbuch. Eine Antwort." ( 17+3 Exemplare, Hamburg 2009). Von Seite zu Seite schwinden die Lebenszeichen. Durchsichtige Folien legen sich auf die Bildseiten, jede hebt eine Zeile des Gedichts hervor. Ja, auch die Zeilen der ersten Strophe! – und dieser Kontrast zwischen Bildern und Text in der ersten Hälfte des Buchs steigert merklich seine Brisanz. Texte und Bilder ergänzen sich zur dominanten Botschaft von Schnee, Stille und klirrender Kälte – den Wind mag spüren, wer Blätter und Folien umschlägt. – Wie sehr passt dieses Buch der Kontraste, des Verharrens, in diesen weiteren Ausnahme-Tag, da die Sonne scheint und die Herzen doch nicht unbeschwert warm werden können… Auf bald wieder! im Klingspor Museum herzlichen Gruß Stefan.
Til Verclas on his Winterbook: "I wanted the poem by Hölderlin entitled "Hälfte des lebens" ('Half of life') to hover above the landscapes with trees. As the printed foil bearing the text seemed too sterile to me, I used sand- paper to roughen it.
In the course of the first presentation of the book I made an unexpected discovery: while turning the foil page a shadow just like a flurry of snow crossed the landscape, caused by the roughened spots on the transparent foils."
---
1.4.20
Friedrich Hölderlin
Der Frühling
Die Sonne glänzt, es blühen die Gefilde,
Die Tage kommen blütenreich und milde,
Der Abend blüht hinzu, und helle Tage gehen
Vom Himmel abwärts, wo die Tag´ entstehen.
Das Jahr erscheint mit seinen Zeiten
Wie eine Pracht, wo sich Feste verbreiten,
Der Menschen Tätigkeit beginnt mit neuem Ziele,
So sind die Zeichen in der Welt, der Wunder viele.
Kaum jemand entfaltet dieselbe Subtilität, literarischen Text in Materialien des Alltags so leichtfedernd, unaufgeregt und dabei so – verblüffend treffsicher aufleben zu lassen wie Peter Malutzki., Flörsheim am Main. Er zählt seit den 80er Jahren zu den anregendsten Protagonisten des Genre Künstlerbuch. Den Jahren der von ihm 1980 mitbegründeten FlugBlatt-Presse, Lahnstein, Mainz, folgte ab 1997 die Zusammenarbeit mit der Buchkünstlerin Ines von Ketelhodt (Zweite Enzyklopädie von Tlön, 50 Bände) seither Druck weiterer eigener Künstlerbücher. Seine Konzepte, seine Mittel der Papierwahl und-behandlung, ebenso seine Farbgebung und Typographie, sind im Zusammenspiel unverkennbar. Dabei zielt Malutzki auf Kontraste, die aber nicht jäh und sofort offensichtlich auftreten. Auch sind die Bände nicht auffällig hinsichtlich ihres Formats oder optischer Überbetonungen. Spektakulär erweisen sich die zunächst konventionell gebundenen Codices durch den immer aufs Neue individuellen Kanon ihrer inwendigen Gestalt.
Vier Gedichte Hölderlins zu den Jahreszeiten – aus späten Jahren – weisen einen gewissen rapporthaft-seriellen Charakter auf. Alles Elegische, Ziselierende der Sprache ist zugunsten einfacher, ausdrucksvoller Wendungen gewichen.
Malutzki begegnet dem seinerseits schlicht mit – Blättern. Vier Baumarten (Schwedische Mehlbeere, Eiche, Silberahorn und Hainbuche) wechseln sich ab. Einfache Naturdrucke auf ein offenporiges Papier, der eine Farbton Grün – alles formt sich zum schlichten, dann aber fein nuancierten, gestuften Fonds, in den die grün gedruckten Texte eingebettet liegen. Sein Monochromes Buch (3) Grün,1994, erweist sich als ein leises Buch im Quart-Format, das sein farbliches und typographisches Unisono nutzt, um Vielstimmigkeit auch in der Verhaltenheit desto überzeugender zur Geltung zu bringen. – (Katalog: P. Malutzki – Buchstäblich Buch, 2017)
Peter Malutzki writing about his Book Green (Buch Grün) dealing with season poems by Hölderlin: "What especially interested me about Hölderlin's late season poems was the serial aspect. I wanted that to come through in the nature prints from real tree leaves as well. Throughout the book, four different types of leaves alternate in the same rhythm. Corresponding to the four seasons in Hölderlin's poems., I used dried leaves from four different trees for the prints. The immediate method of printing directly from the object to be depicted (1:1) brings up the question of what is original and "real". The concept of the original graphic, which still plays an important role in the book arts, is changing. What fascinates me is printing from original materials, but I have become just as intrigued by working with materials from newspapers, magazines etc., wether by collaging original materials or printing them with polymer plates… (Peter Malutzki, Cat. Buchstäblich Buch, Flörsheim 2017)."
---
5.4.20
Die Linien des Lebens sind verschieden.
Wie Wege sind, und wie der Berge Grenzen.
Was wir hier sind, kann dort ein Gott ergänzen
Mit Harmonien und ewigen Lohn und Frieden.
Diese Zeilen Hölderlins hatte ich als Motto der Ausstellung "Himmelsvorgenuß" im Klingspor Museum erwogen, als Hinweis auf die verschiedenen Wege, die die Künstlerinnen und Künstler wählen, um dem Werk und Leben des Dichters zu begegnen. Dann fiel mir auf, wie die Worte auch zu jenen roten Linien passen, mit denen die neue Dauerausstellung des Museums aufwartet. Corinna Krebber hat ihre Architekturzeichnung "Lineaturen" mit rotem Stift gezogen, durch alle Bereiche der Ausstellung hindurch, im rhythmischen Anstimmen des Auf- und Abgehens der Räume und Treppen. Im November war die Eröffnung, und Wieder-Öffnung des Hauses ist, was wir uns erhoffen. Bis dahin: lauter Sonnenschein-Wege "mit Harmonien und Frieden" (den ewigen Lohn hab ich mal rausgelassen….).
Other posts by Klingspor Museum