Visitors to the Klingspor Museum can now discover its history and collections thanks to the new permanent exhibition which it recently opened. A selection of highlights are now on display has been selected with a view to providing a general overview of the Museum's extraordinarily rich collections. They are organised in three distinct galleries:
the ground floor section is given over to history, typefaces and calligraphy,
the first floor deals with graphics, illustration and posters,
and finally, the second floor gallery under the roof offers a panorama of illustrated books, livres de peintre and artists' books.
A digital station allows visitors to discover other items from the collection and to use an interactive platform to make their own compositions by manipulating graphic items from works in the collection.
All showcases are on the same level as adjoining tables so that people can not only look at the exposed treasures but can try out writing, stamping, folding and other techniques to get an idea of the practical tasks related to the process of writing, type and book making.
The new opening hours
– Tuesday, Thursday, Friday 13.00-17.00
– Wednesday, 13.00-19.00
– Weekends,  11.00-18.00.
---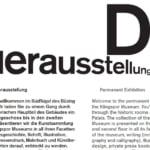 Want to know more? Read the presentations of the different part of the new permanent exhibition here.
---
.
.
And don't forget…
The next AEPM annual conference will be hosted by the Klingspor Museum and the Haus der Stadtgeschichte (Local history museum) and will take place in Offenbach from the 28-30 May 2020 (details to be announced soon).
Other posts by Klingspor Museum