Guest post from Jürgen Wegner, editor of The shadowland newsletter, Eastwood, New South Wales, Australia.
First published in The shadowland newsletter, n° 99, August 2019.
A friend of mine who had worked with the trade every now and then sends me information on interesting, unusual and lesser-known printing museums. So when I found myself in Germany I decided to follow up on one of his leads. The museum in question was in Mosbach not far from where I was staying and it was a perfect day for a pleasant Sunday drive through the beautiful countryside. Mosbach is a fair drive east of Heidelberg in the Odenwald, on the Neckar river but easily accessible by local train from Heidelberg. It is quite a small town but historically well-preserved. We just happened to have picked a Sunday which also just happened to be a sort of town festival or open day and the place was packed. Not with tourists but with thousands of Germans who were sampling the regional delicacies as well as doing a bit of up-market shopping for local produce such as wine, cheese and the inevitable Wurst.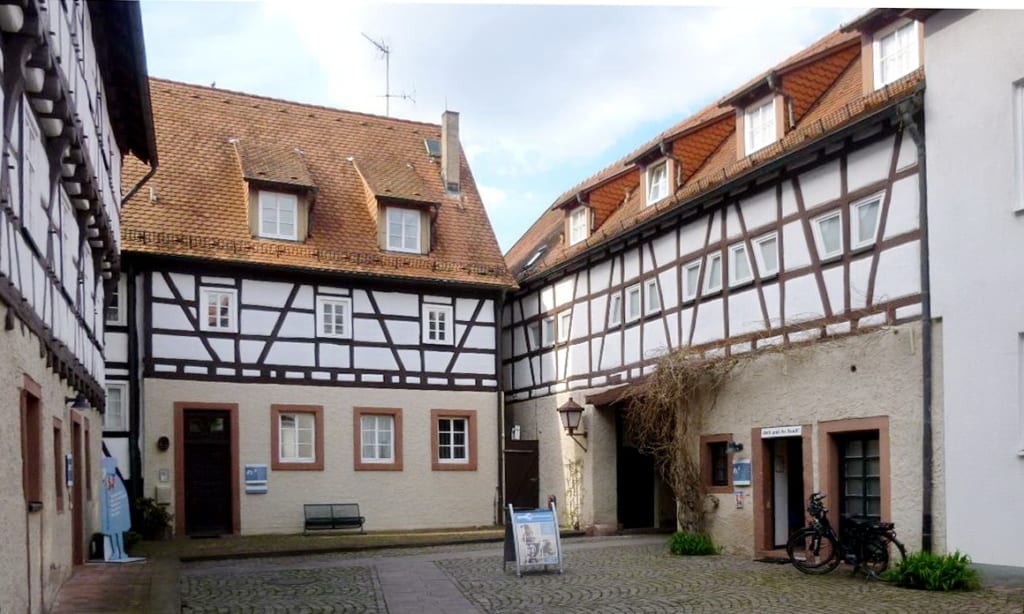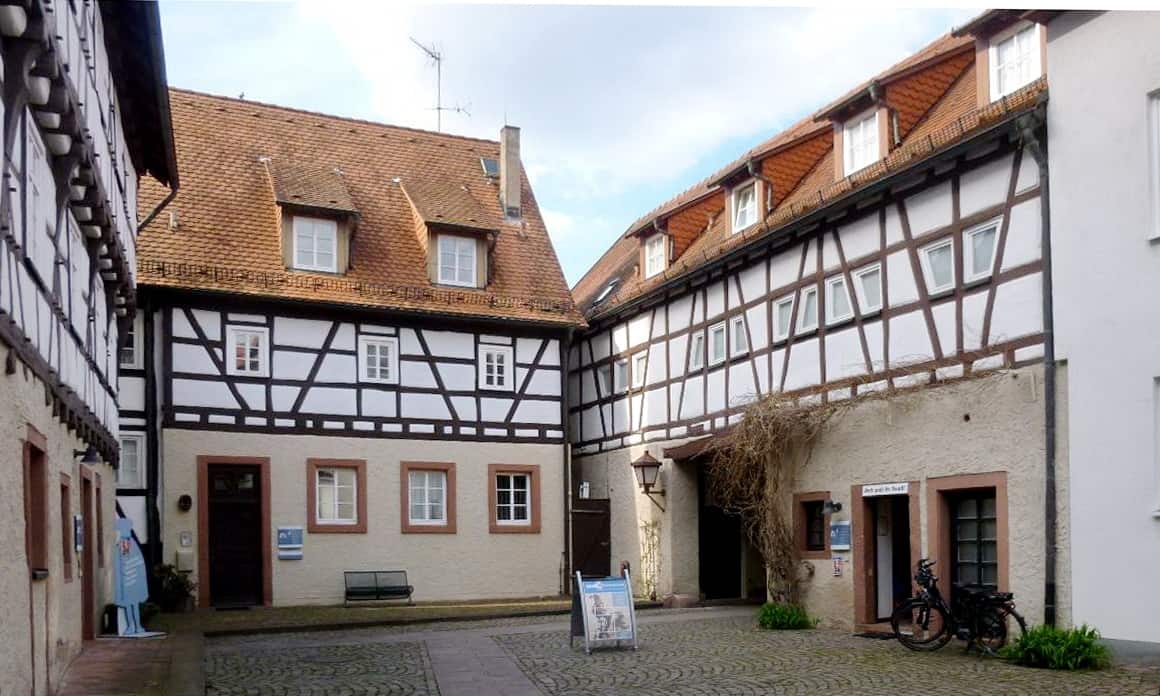 The Stadtmuseum is made up of a complex of historic ancient buildings set around the old Hospitalhof or city hospital. For those interested in history—and regional history— there is a wealth of material on display on the cultural, artistic and economic history of Mosbach and its surrounds. Part of this is a large ground floor room in what was originally the Hospitalscheune (hospital barn) which aims to show visitors the history of printing 'from Gutenberg to newspaper printing'. The motto of the museum complex is 'experiencing history' and so there is a permanent exhibition of some large and interesting printing machinery and equipment on display. But they also provide a hands-on experience, especially of printing for children.
In 1994 a group of lovers of the old printing technologies came together with the idea that 'the black art must continue to live' in the town and established the Druckwerkstatt Mosbach (Printery Mosbach). This lead to the establishment of the museum as part of the Stadtmuseum in 2003, including an educational printing shop. The intention is for all the presses on display to be used and there is evidence of this in the publications on display. The area available for the permanent exhibition is limited and so there is room for only the standard items of printing machinery and equipment. But these are fine and unusual—especially for someone not from Germany.
In pride of place is without doubt the large stop-cylinder press—an 1890 Johannisberg. This press was manufactured by the Schnellpressenfabrik & Eisengiesserei Klein, Furst & Bohn Nachfolger, Johannisberg am Rhein, with the name of the press, 'Johannisberger', coming from the place in which the company was located, i.e. Johannisberg am Rhein. The press was originally used to print local newspapers but also books and it was used to print the Viernheimer neue Volkszeitung until June 1981. It is now in use printing the museum's own large newspaper, the Setzkasten (type case). Other items include an iron hand press, an Ideal manufactured by A. Hogenforst of Leipzig from 1880. Unlike the English-speaking world including Australia and New Zealand, Germany—and Europe?—favoured the toggle press of which this is a fine, restored example. There is a Linotype as well as a display of type cabinets and hand set type. As well as a metal pot (furnace) for melting and casting ingots for the Linotype. I was surprised to find a large rack with Linotype matrices free for visitors to take with them! As part of their small reference collection of things such as a Linotype operator's manual there was also an old and very fine Schelter & Giesecke catalogue. You sometimes see their early type specimen books for sale but this was something even rarer—a large bound catalogue of their printing machinery and equipment!
The whole had been designed and presented in accordance with professional museum standards and there are numerous story boards often with additional items displayed such as a cylindric printing plate as used for newspaper printing. The museum does also still do printing though occasional items rather than substantial volumes. One of the items printed is the Setzkasten, though the issues I was given are from 1997 and 1998 when the museum was in its old location at the local Industriepark, i.e. the industrial area. These are large, illustrated newspapers of eight pages each and printed on a thick good quality paper. The issues describe two of the book arts events, the Buchmachermarkt (book makers market) which used to be held in Mosbach. The newspaper also contains longer articles on the ABC of typography, Bodoni, calligraphy, papermaking, type casting and setting, typography, watermarks, wood cuts and wood engravings. And even reprints something by Schwitters on typography. Issue two of May 1997 includes a printing of a large woodcut by Norbert Gleich of a rider on horseback specially done for this issue of the Setzkasten. Each issue is listed as DM10.00 which was a considerable amount of money twenty years ago.
Why do people only ever produce so few of anything—and then just for the moment?! The Ideal iron hand press had recently been used to print a fabulous large poster for the Tag der Druckkunst (Day of printing art) which had been held nationally in Germany on the fifteenth March. This was the first and saw a combined effort by many German printing museums to celebrate the inclusion of the printing arts in the register of immaterial culture by the German Commission of Unesco. A number of museums— including the Gutenberg Museum's Druckladen and, I am sure, Leipzig also—had contributed a large poster (print) to a portfolio which was then distributed to the participants. Mosbach had produced a fine large poster in two colours (black and red). They feature a large, bold woodcut of a printer inking up his wooden hand press. Unsigned but the wood cut is one in the collection of the museum. So, could it have also been by Norbert Gleich? All that remained were a few spare copies with some slight imperfections. I was invited to take a few and took several for distribution to friends.
Entry to the museum is free of charge. Many such museums open infrequently and the Druckwerkstatt Mosbach is only open Wednesdays and Sundays from 15.00 to 18.00 between April and October. But it is open in addition for workshops, especially to groups of children. And I am sure that if you made an appointment, they would be happy to give you a special tour as well.
For more information: http://www.mosbach.de/stadtmuseum
Other posts by Jürgen Wegner