Lithography conference 2017
Quo vadis: saxa loquuntur
The International Senefelder-Foundation (ISS) is organizing its first colloquium in Offenbach on the 5th/6th of December – the annual Lithography Day. The aim of event is to inform about all activities of lithography 200 years ago, after the publication of the first textbook by Alois Senefelder.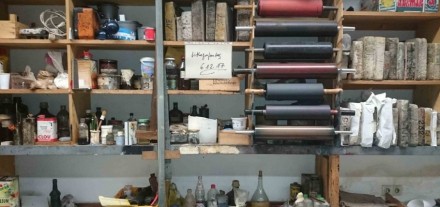 Program
05.12.2017
16.00 Possibiltiy to visit the Senefelder collection
19.00 Reception in the "town hall of the city Offenbach"
06.12.2017
09.00 Registration (Aula der HfG / s. Anfahrt-Skizze)
09.15 Welcome
09.30 Keynote lecture and discussion
10.30 Coffee break
11.00 Panorama 1
12.30 Lunch
13.30 Panorama 2
15.00 Coffee break
15.30 Discourse: Theses 1 – 4
17.00 Departure
Theses for lithography
1. Professional lithography has died in the 20th century. Presently there are worldwide few experts, the professional experience in the historical printing technology. To counter the loss of skill existing knowledge to transfer and document the material and immaterial inheritance necessary.
2. The artistic lithography uses possibilities of impression in link with experimental and creative techniques. Their goal is not in the professional duplication of templates, but in the creative process for the production of art. Since these artistic processes are an important one further development of lithography, are transfer and documentation of these artistic processes.
3. The value of original printing techniques is currently too low on market rated. Although the production of a lithography both professional and temporal requires a higher effort than for other artistic techniques, the countervalue is not generally perceived. It is necessary, artisans, collectors, museums, gallery owners and critics convince that hand prints of lithographs in small edition as originals to be displayed.
4. Although most lithography workshops know of other facilities and some meetings have been held, is a network of all worldwide activities necessary. It should be possible, that in a network exchange, cooperation and information will be better.
Internationale Senefelder-Stiftung Offenbach
Office
Dr. Volker Dorsch
Dielmannstraße 23
63069 Offenbach/Main
Tel.: 069/98340506
Mobile: 0172/7114088
Fax: 069/98340507
Mail: Info@senefelderstiftung.com
When and where
12 December 2017
16.00
House of city history
Herrenstr. 61
63065 Offenbach / Main
See also the map on the International Senefelder Foundation's wensite
www.senefelderstiftung.de
under "Contact"