With the postponement of the 2020 AEPM annual conference and its slightly experimental online edition organised by the Klingspor Museum in Offenbach in the Spring of this year we missed out on our usual news session, when museums share updates on their progress and latest projects. So to catch up we are very happy to post this end of the year recap from our friends at the C. C. Stern Type Foundry in Portland, Oregon.
Dear friends,
In March 2021, on the 10 year anniversary of opening the doors to our public museum space in Portland, Oregon, our Board got together… on Zoom. Looking back at the museum launch, as we were still high on our Kickstarter adrenaline, we probably imagined a more rambunctious party would be in order. Or maybe we still couldn't predict whether this community would be able to sustain the C.C. Stern Type Foundry for 10 years. But together, we've done just that — and we'd like to take this moment to celebrate with you!
Ten years of public open houses, school group tours, conference events, type talks, artists-in-residence, and author readings convened in our industrial space since 2011 have continued this year on Zoom. While adjustments were required to move programming to the virtual realm, our community events forged on. In 2021 we held Type Jams! with Sarah Nicholls (Brainwashing from Phone Towers), Abra Ancliffe (Personal Libraries Library), and Ellie Mathews (The North Press). We went on Collection Tours at the RIT Cary Collection, Letter-kunde, and Howard Iron Works. Bernie Smith has continued to facilitate the engaging NW Letterpress Network Meetings that began in the Foundry space, and we hosted the group's virtual and hybrid meetings on our videoconference account this year.
The American Typecasting Fellowship (ATF) also moved to Zoom, with an online conference held over two days this summer. As a precursor to the conference, we hosted an online social with Bill Welliver and Larry Johnson earlier in the Spring to hear about their machine restoration projects. As the ATF community explores options for managing and maintaining the knowledge, skills and equipment of this art and industry, the C.C. Stern Type Foundry has been able to share our experiences and lessons learned over the past 10 years.
But not all our work this year was online; against some odds, we have managed to keep the casters running and metal type inked! Rebecca and Joe are one "w" away from completing the DeVinne casting project on the Monotype Orphan Annie (which you can read more about in the new issue of The Point, our annual newsletter mailed to donors at any level). And speaking of The Point, we cast the articles in Binny Old Style on the Monotype Composition Caster using the Welliver Interface. Brian and Jeff have kept the Linotype and Ludlow casters clicking, and their handiwork also graces the pages with headings and border rule.
We launched a new web site and an online store this year, so please check it out at metaltype.org.
We've also inaugurated new programming: a series of poetry broadsides with former Pacific NW Poets Laureate, thanks to funding by the Regional Arts & Culture Council and individual donations. The first broadside features "Belle de Boskoop," a poem by Sam Green honoring his longtime friendship with Chris Stern. The text is set in Stern, designed and cast by Jim Rimmer, also in memory of C. Christopher Stern. The public launch event celebrating completion of the first in this series will be held in early 2022.
So here we are; happily celebrating our first decade and — together with this great community — ready to make some big, bold moves (including one very literal one!) into the next decade. Thank you to our friends, volunteers, advisors, funders, and inspiring collaborators for being on this journey with us. See you online and in the foundry!
— The Board (Brian, Chris, Connie, Jeff, Joe and Rebecca)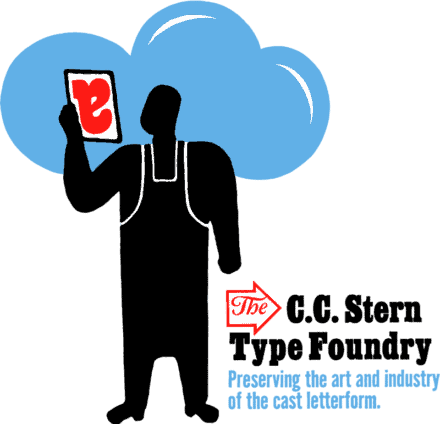 End of year support
We continue to run a lean all-volunteer organization, with our major expense being rent. We are making the move to Clatskanie, Oregon to provide a more stable, long-term home for the C.C. Stern Type Foundry that will enable us to keep our operational costs low (albeit with some added moving expenses in 2022).
We come to you annually, pressperson's hat in hand, and humbly request your tax deductible donations to help fund the programming and operations of the C.C. Stern Type Foundry.
We realize this has been a tough year for many individuals and small businesses, and a cash donation just may not be possible. We understand. Your good will and non-monetary support keep this organization going in all important ways.
A link to suggested levels of support and incentives are on our site at www.metaltype.org
We can accept payments through PayPal (treasurer@metaltype.org) and checks by mail at P.O. Box 2556, Portland, OR 97208.
Ways to support the C.C. Stern Type Foundry programming:
•    Shop our online marketplace
•    Become a supporting donor
•    Use Oregon Cultural Trust matching funds for our "Museum of Metal Typography"
•    Shop through Amazon Smile with the Foundry as Amazon's donation recipient
•    Link your Fred Meyer Rewards Card to the Foundry
Other posts by C.C. Stern Type Foundry