[Exhibition: La Louvière, Belgium]
Chroniques
Frédéric Penelle, Thierry Lenoir and Daniel Nadaud at the Centre de la gravure et de l'image imprimée

Until 3 March 2019
Rue des Amours, 10
7100 La Louvière, Belgium
To celebrate the twin anniversary of the 30 years of the Centre de la Gravure and the 150 years of La Louvière, the exhibition Chroniques (Chronicles) takes us through the meanders of the past and the present to tell the story of three artists: Frédéric Penelle, Thierry Lenoir and Daniel Nadaud.
Following the tradition of picture chroniclers of social life or historic events such as Francisco Goya or Jacques Callot, their representations create a suspended time and conserve a collective memory. If their works sometimes reflect an atmosphere of war or oppression nowadays, they also resort to humour or scorn to denounce the injustices and absurdities of our societies. Sometimes funny, at other times serious, the images of these three artists abound with ordinary citizens and everyday objects rather than an evocation of major historical events or heroic actions.
Through the universes of the three artists, each one on a different floor, the exhibition ranges from a Chronique de l'ombre (a chronicle of shadow) in Frédéric Penelle and his animated images created with the videographer Yannick Jacquet, mixing digital resources, engraving and cut-outs, through a Chronique du quotidien (an everyday chronicle) by Thierry Lenoir and his provocative wood engravings to finally reach the Chronique du désastre (a chronicle of disaster) by Daniel Nadaud and his printed stories linking agricultural and bellicose machinery.
On this occasion, the Centre de la Gravure has prepared a book with each artist and three monographic catalogues presented in a slip case.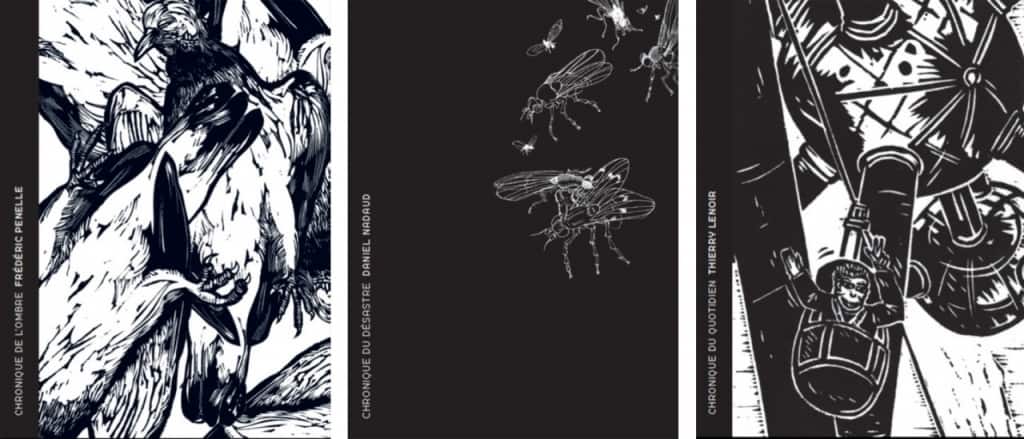 The exhibition has been organised as part of the Van lood tot pixel – Du plomb au pixel (from lead to pixel) initiative that brings together five museums in Flanders and Wallonia (Museum Plantin-Moretus, Antwerp; Industriemuseum, Ghent; Nationaal Museum van de Speelkaart, Turnhout; Centre de la gravure et de l'image imprimée, La Louvière; Maison de l'imprimerie, Thuin).