[Città di Castello, Perugia, Italy]
History of the Tipografia Grifani Donati 1799 heritage workshop
In the 15th century, at the time of the Renaissance, Italy was thriving. So, hardly surprisingly, it was here that the new invention by Johannes Gutenberg in Germany, namely the technique of movable type printing first became widespread. In fact, the first printing workshop in Italy was opened in Subiaco, Lazio, in 1465.
Seven years later, in 1472, the cleric of Magonza, Johan Numeister printed twenty copies of Dante Alighieri's Divine Comedy. In the university town of Perugia, meanwhile, one Francesco Cartolari set up his printing workshop and in Città di Castello the two travelling printers Antonio Mazzocchi of Cremona and the Gucci brothers of Cortona printed the Book of Statutes (Liber Statutorum). For the next two centuries after that, not much printing took place in Città di Castello and the little that did usually had religious content. Then, in the beginning of the 18th century, G. Manescalchi (from 1716 to 1743), O. Bersiani (from 1765 to 1775) and F. Toppi (from 1778 to 1789) reintroduced printing to Città di Castello by setting up their own, new printing studios.
In late 1799, the typographer Francesco Donati and Bartolomeo Carlucci moved from Assisi to Città di Castello so as to set up their workshop here. The site they chose for that purpose was the former site of the 13th church of S. Paolo, which after that was home to a convent and finally, before they moved in, it had been used as a prison!
Their studio soon became well known for producing books and publications of great artistic and cultural value, and orders came in from all the neighbouring cities and provinces. Upon the death of Carlucci, the business was continued by Donati, who in 1817 introduced the Bodoni typeface.
In 1842, on a wooden press, he rather remarkably printed the monumental oeuvre by Bishop Giovanni Muzi, Ecclesiastic and Civil Memoirs of Città di Castello, which was published in no less than 28 parts.
The present owner, Giovanni Ottaviani, (son of Mario Ottaviani) and his wife Adriana continue the family tradition. Giovanni has added stone lithography to his repertoire, as well as etching (on copperplates) and the binding and restoration of books.
Today the workshop produces a wide range of printed matter such as lithographs, etchings, posters, letterheads, visiting cards, business cards, wedding invitations, wedding announcements, bookplates, and much more. For this, mostly traditional techniques and equipment are used, such as the printing press Elia Dell'Orto from 1864, Platen Tiegeldruk from 1903, a starwheel lithographic press by Bollito & Torchio 1880, a copperplate printing press by Paolini from 1960 or a cylinder transferring press from the Werk Augsburg from 1910. All of these serve to work with different types and motives, printing plates, woodcuts and galvanos.
Traduzione: Rebecca C. Sanger
Facade of the building (11th century).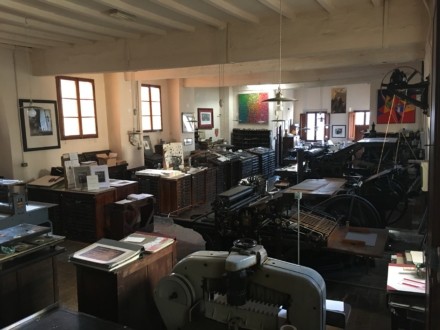 The workshop.
One of the steps in lithographic printing.