Museum of Graphic Arts Ángel Gallego Esteban-University of Alcalá
In the 16 June 2021 the University of Alcalá inaugurated its own printing museum, the Ángel Gallego Esteban Museum of Graphic Arts, with the aim of paying tribute to a profession which has a long history in the City of Alcalá de Henares and a long association with its University. One of the monuments of this association is the celebrated Polyglot Bible of Cardinal Cisneros.
The new Museum's display is based on the collection which the businessman Ángel Gallego Esteban gifted to the University in 2019. Born in La Horra (Burgos), Ángel Gallego arrived in Madrid in 1942 at the age of 14. There he started an apprenticeship in a printing house, first as a hand compositor and then as a linotype operator. He later went on to learn the techniques of stone lithography, page assembly and offset. During a long career in printing, first as an employee and later as an entrepreneur, he worked with many different techniques and processes. In 1958, having learned various aspects of the trade he co-founded with Germán Gutiérrez, the firm of Litografía GÁEZ de Artes Gráficas, rising from a simple workshop in Vallecas into a 12,000 m2 facility with 200 employees in Arganda del Rey. Upon his retirement in 2007, he decided to pay tribute to the graphic arts by creating a museum for which he had already collected a wide range of objects and documents related to printing, a project that now sees the light of day at the University of Alcalá de Henares.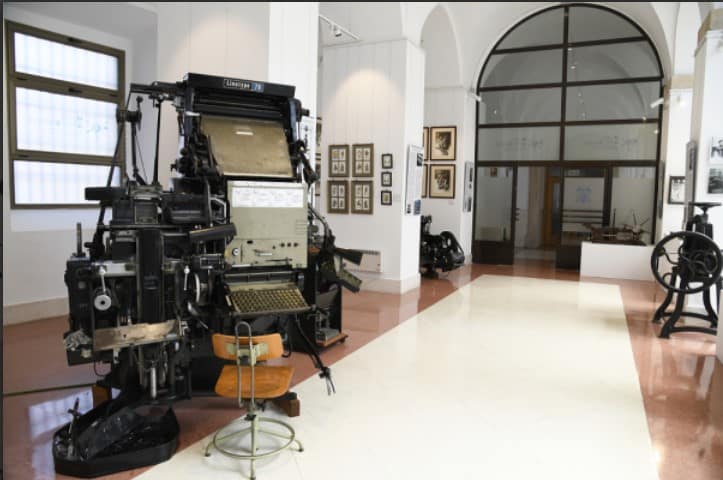 The Museum, which illustrates the evolution of printing since its invention in the fifteenth century to the present day, is temporarily located in the Law Faculty and will will be definitively installed in the future extension of the Cisneros Building.
The speeches given at the inauguration, which took place on 10 June, can be followed on the University's Cultura YouTube channel.
Access
The museum is open from Monday to Friday and can be accessed via the Complutense road entrance, next to the San Lucas car park.
There will also be guided tours by prior reservation on Mondays, Wednesdays and Fridays at 11:00 and 18:00.