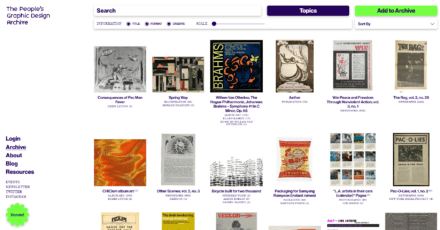 A virtual archive built by everyone, about everyone, for everyone
The People's Graphic Design Archive is a crowd-sourced virtual archive of inclusive graphic design history. It includes everything from finished projects to process, photos, correspondence, oral histories, anecdotes, articles, essays, and other supporting material. You'll find all sorts of information and links to other relevant archives, too. Its aim is to realize a virtual archive that recognizes and preserves graphic design's and culture's expansive and inclusive history.
After a couple of years of construction, testing and operating as a beta version, it has just moved to it's permanent online home and is set to become an essential resource for anyone interested in the history of graphic design.
The Archive is for everyone: for designers and historians who can browse it for inspiration or research; as well as for anyone interested in graphic design who can browse it just for fun!
The archive also allows you to upload and share your own graphic design history treasures. Digital images of finished projects, process, photos, letters, oral histories, anecdotes, published and unpublished articles, essays, and other historical material. You can add many different file formats including JPGS, pdfs, videos, audio files, as well as links. Projects must have been produced at least 10 years ago (or in the case of correspondence, interviews, etc, be about work produced at least 10 years ago). The PGDA does not claim ownership of items in the Archive. The rights holder retains the trademark and copyright.
Check it out. It really is worth a look.
For more background to the project see the AIGA eye on design article The People's Graphic Design Archive Is Rethinking How We Talk About Design History, by Ryan Mungia.