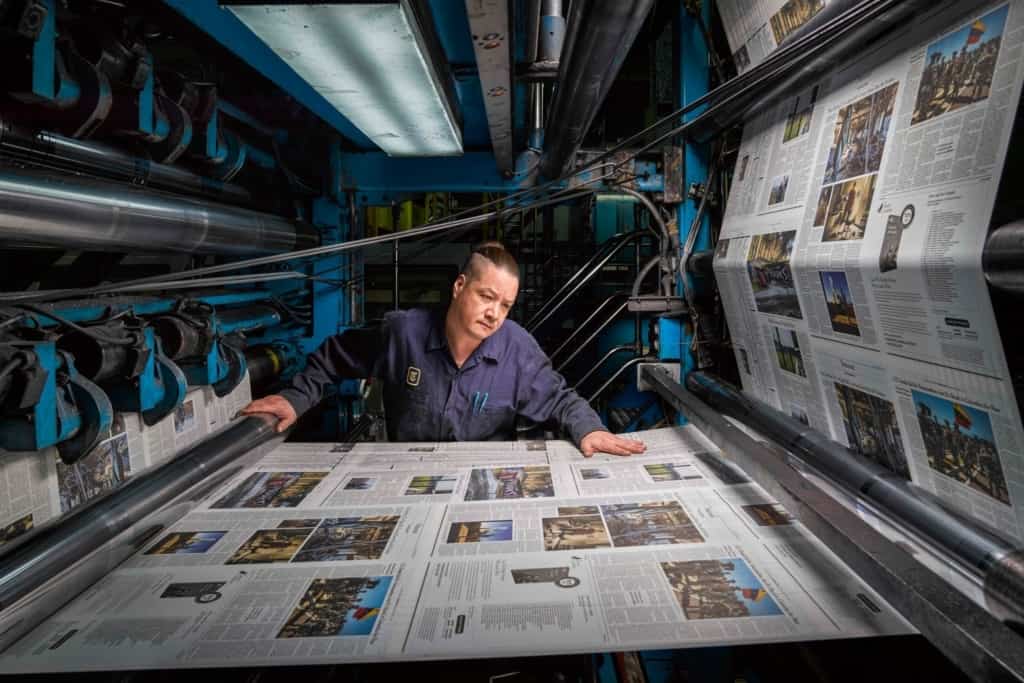 In its March 26th edition the The New York Times Magazine published a splendid photoreportage entitled 'The daily miracle: finding magic inside The Times's printing plant'. The photos – which were taken by Christopher Payne who spent two years shooting The Times's printing operation in College Point, in the Queens district of New York – capture the extrordinary scale, technicity and unexpected beauty of modern newspaper printing.
Christopher Payne's photographs are accompanied by several texts, including one Luc Sante which is not without its own poetry: 'Consider the newspaper, the physical object, printed on processed wood pulp, shot upward on rollers at high speed as ink is applied, gathered and folded and bundled, dropped off at newsstands and bodegas or delivered to doorsteps. Nowadays it is a minority choice, as a majority of consumers around the globe opt to get the latest word from their screens as they zoom from one place to the next. But that minority of readers is substantial, and fierce. They savor the thrill of the first hit of newsprint in the morning, with its slightly acrid odor and its ironclad association with the first cup of coffee. They have mastered the origami skills required to read the paper on the subway. They appreciate the staggered hierarchy of the front page — the significance of the top left corner, the relative point sizes of major and minor headlines, the weight of an obituary (say) that lies above the fold, the nuance of features heralded in the bottom third — not because they are lesser but because their front-page appearance is merely the tip of a much larger body within. And they can foretell how their copy will end up: folded to the crossword puzzle, decorated with various stains, missing a recipe or a travel tip, ready to return unto pulp.'
See the full article here…
…and 'The making of the Daily Miracle' here.