[Exhibition]
Another world is possible:
Aberdeen People's Press and radical media in the 1970s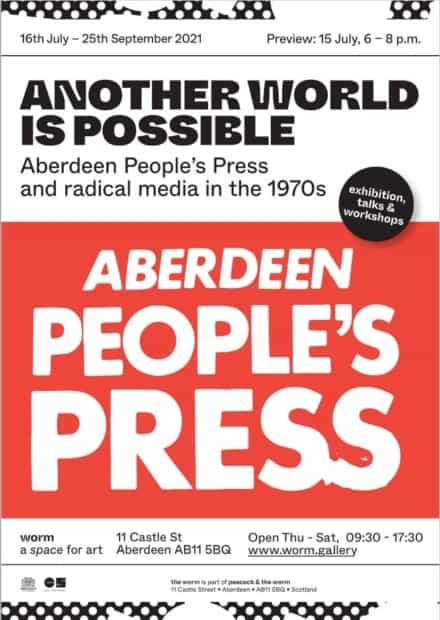 16th July – 25th September 2021
Peacock Visual Arts / the worm
11 Castle St, Aberdeen, Scotland
The early 1970s were a very particular moment in the development of print media – the moment when printers' monopoly over the multiplication of texts and images was beginning to crumble. A new generation of politically motivated do-it-yourself printers was appropriating techniques which had up until then been used principally in offices and administrations – typewriter composition, cheap darkroom cameras, small-format offset presses and, in due course, Xerox copying machines. Suddenly groups and individuals who for years had been ignored by the mainstream media were 'getting into print'.
The more outrageous and graphically extravagant part of the alternative press – as exemplified by titles such as OZ, International Times and Ink, to mention only some of the better-known British examples – has passed into the textbooks of graphic design and social history. Another part, however, has remained largely hidden from history: the myriad magazines, newspapers, pamphlets, leaflets and posters produced by and for community and activist groups. Though less spectacular than the psychedelic productions of the late 60s and early 70s, the community press was instrumental in giving a voice to demands for a more just and equitable society.
Some years ago a collaborative website was set up to document the many activist printshops which were set up in the early 70s to service a profusion of radical groups, community newspapers, trade unions and campaigning organisations. After a promising start, it ran into technical difficulties and could not be continued, though it did lead to Jess Baines' ground-breaking PhD thesis, Democratising print? The field and practices of radical printshops in Britain 1968-98. More recently, a research project entitled Recovering the regional radical press in Britain 1968-88 was set up at the Regional History Centre at UWE Bristol. Its website, seems to be somewhat on standby at the moment, but that may simply be because those involved are buser researching than communicating.
At the other end of Britain, Peacock Visual Arts and the University of Aberdeen Special Collections have approached the subject from a different point of view by organising an exhibition about Scotland's principal radical press of the period. Another world is possible. Aberdeen People's Press and radical media in the 1970s provides a glimpse of the extraordinary vivacity of grass-roots activist groups and the possibilities of do-it-yourself citizens' media nearly forty years before social media grabbed the headlines. Co-curated with formers members of the Aberdeen Peoples' Press collective (later a workers' co-op), it draws heavily on the extensive archives of APP which are held in the University's Special Collections.

An exhibition not to be missed and which, hopefully, will encourage future researchers to explore this unjustly long-overlooked chapter in the democratisation of print media.