The Lithography Museum in Huddinge (Sweden) will reopen on the 20th February with an exhibition of lithographs, drawings and paintings by Yvonne Jeppsson.
Jeppsson lives and works in Stockholm/Småland and is an active member of the Litografiska Museet. She was educated at the Stockholm Academy of Fine Arts 1980-86, where she specialised in painting. For more information about the artist see www.yvonnejeppsson.se.
The exhibition runs until 13 March. Opening times: Tuesday-Friday and Sunday from 12:00 to 15:00.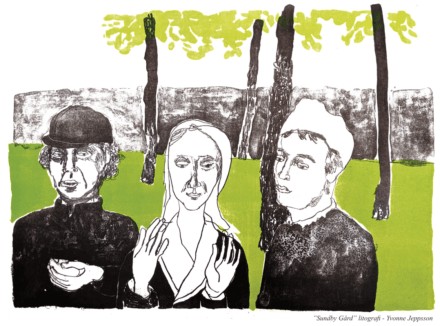 Litografiska Museet
Sundby Gårdsväg 6
141 91 Huddinge, Sweden
info@litografiskamuseet.se
The Litografiska Museet is a combined museum and workshop specialized in stone printing. It owns a large collection of art works, posters, labels, letterheads, packages etc. from the first half of the 20th century as well as 1,000-odd lithographic stones, most of which still have old motifs preserved on them. The collections are to a large extent based on donations from individual lithographers and printers.