TYPA is joint winner of the ILUCIDARE Special Prizes 2020
The winners of the ILUCIDARE Special Prizes 2020 have just been announced during a virtual gathering that connected culture and heritage professionals, policy makers, (young) entrepreneurs, enthusiasts, volunteers and supporters from across Europe and beyond. Mariya Gabriel, European Commissioner for Innovation, Research, Culture, Education and Youth, awarded the ILUCIDARE Special Prizes during the European Heritage Awards Ceremony. One of the awards went to TYPA—Estonian Print and Paper Museum, Tartu (Estonia), for excellence in heritage-led innovation. The other went to Archaeology for a young future (Italy/Syria) for excellence in Heritage led International Relations.
The ILUCIDARE Jury noted that 'The Estonian Print and Paper Museum is a brilliant example of heritage-led innovation in many ways: from its unique multi-functional and inter-disciplinary model, to the novel methods used to recover traditional printing techniques, as well as its original ways of engaging local communities and creating value for visitors. In a digital era, TYPA contributes to the safeguard, recovery and reuse of printing techniques and know-how which belong to our common history and shared European heritage'.
Mariya Gabriel, European Commissioner for Innovation, Research, Culture, Education and Youth, stated: 'In the current circumstances which are challenging for all of us, including in the cultural and creative sectors, the ILUCIDARE Special Prizes winners provide us with comforting perspectives: they demonstrate that our shared heritage is an enticing source of intercultural dialogue and discovery, showcase the huge potential of digital technologies to bring people closer together while they cannot physically meet, and embody the meaningful innovation potential of a sector that needs to be fully part of Europe's economic and social recovery. I warmly thank you and congratulate you for your achievements.'
The winners of the ILUCIDARE Special Prizes were selected by the ILUCIDARE partners among the submitted applications to the European Heritage Awards / Europa Nostra Awards 2020. Six projects had been shortlisted for the final run of the Special Prizes.
'The winners of the first-ever ILUCIDARE Special Prizes embody the creativity and agility of the heritage sector. As such, they stand as best practice examples for the heritage community as well as an inspiration for the broader worlds of innovation, entrepreneurship and international cooperation. Our heartfelt congratulations to the two winners on behalf of the ILUCIDARE Consortium! We are looking forward to further support you in upscaling your projects and to making your experiences enthralling role models for the ILUCIDARE network," said Koen Van Balen, ILUCIDARE project coordinator (KU Leuven, Belgium).
The ILUCIDARE Special Prizes are supported by the European Union's Horizon 2020 Research and Innovation programme, in addition to the European Union's Creative Europe Programme for culture and the audio-visual sectors, which supports the European Heritage Awards / Europa Nostra Awards.
TYPA was founded in 2006, is dedicated to the preservation of print and paper heritage and the promotion of international relations. Printing and papermaking, their industry and heritage have a long and central role in the history of Europe. TYPA preserves this shared heritage in an innovative way, creating value for and preserving the values of historical printing and papermaking through the intersection of contemporary tools and traditional techniques.  The museum's collection is made up of historic printing equipment that has been preserved, wherever possible, in full working order, allowing visitors to try out historical printing and papermaking techniques. The museum also promotes innovative artistic and skill-sharing approaches and a rich programme of events. The museum shows how innovation can stem from the understanding of historical technologies and techniques.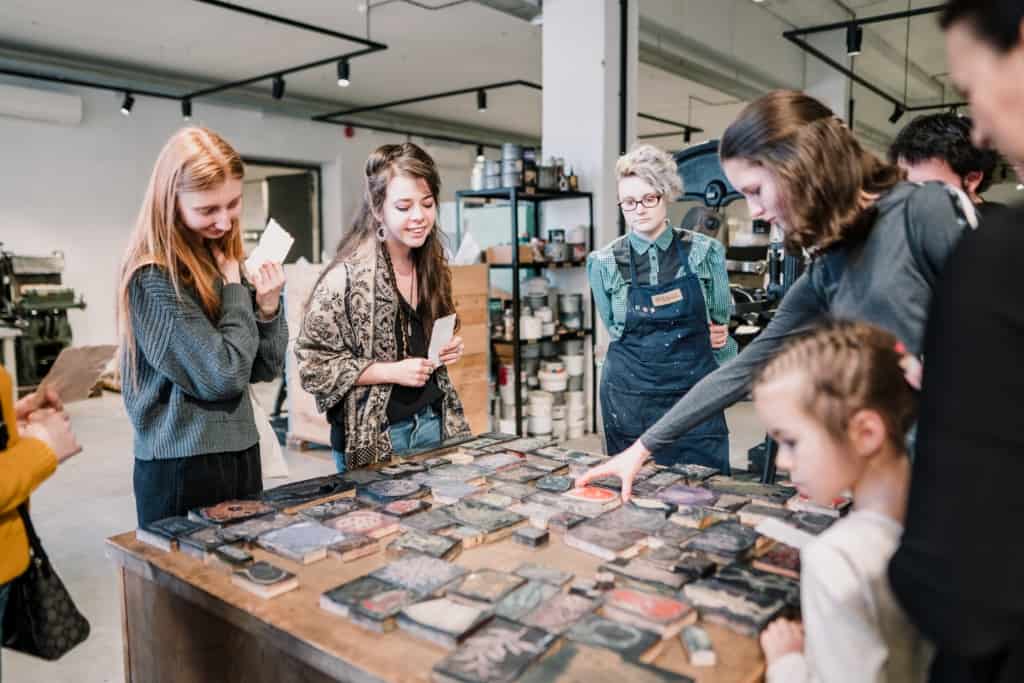 Interview with Charlotte Biszewski, Studio & residency manager, and Lemmit Kaplinski, board member
What was the most difficult or challenging moment during this project?
There are always challenging aspects with the museum, finding definition and recognition for the work that we do has been a continuing struggle. It sets us aside from museums, galleries, and fine-art studios. Instead, we have often found ourselves not quite fitting into a traditional role, by being aligned with programs such as ILUCIDARE do find opportunity to better understand ourselves.
What was the most rewarding?
There is a rewarding moment which is shared by every member of our small staff. It is when a new visitor enters, not knowing what to expect. Once they have ventured through the threshold and signed themselves over to our tour guides, it is not long until they are captivated. Often it is the first time they have made paper, learnt how complicated the typesetting process was and witnessed the final stages of traditional bookbinding.
What does the future of your project look like?
In the future, we would like to extend our international collaborations, working with like-minded institutions in innovative approaches to heritage. We would like to further our knowledge in our own print technology, organise conferences and skill-sharing on a wider European level.
Contact
Lemmit Kaplinski, lemmit@typa.ee +3725118619