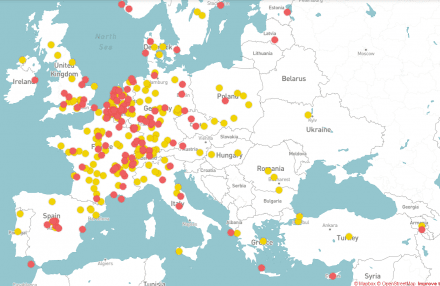 Want to find a printing museum or other printing heritage organisation near you, or to visit when travelling? Click on Open the Museum finder (above) to explore the region that interests you and click on the flags to obtain the names, addresses and links to the websites of printing museums and related resources throughout Europe and beyond.
Museum finder includes: museums of printing, books, newspapers, advertising, packaging, papermaking, graphic design, etc.; textile printing museums; bibliographical presses, libraries and archives with permanent or regular temporary exhibitions related to printing and printed products; workshops actively involved in preserving and transmitting printing heritage.
AEPM member organisations are marked in purple. Click on the flag to obtain the name, address and link to the website. (A full list of AEPM members, sorted by country, can be found here.
Other museums, libraries and heritage workshops are marked in pink with the name and link to the website.
Some of the resources are accessible by appointment only, so be sure to check out their website for opening hours and possible conditions of access.
We try to keep our data base as up-to-date as possible, but should you find any inaccuracies, please don't hesitate to let us know at webmaster@aepm.eu and we'll fix them immediately.
If your organisation is not already present in Museum finder and you would like it to be included, please contact us with details at webmaster@aepm.eu.
---
If you are looking for printing museums you might also be interested in
A brief history of printing and related museums worldwide in the form of a timeline of the foundation dates of nearly two hundred printing and graphic heritage organisations.