The State of Historical Letterpress Printing
Winterbourne House and Garden
Birmingham, UK
29 September 2017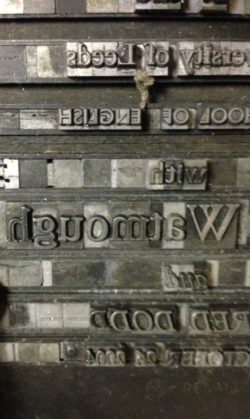 This one-day workshop examines the survival and use of historical printing presses and type.  It considers how and why equipment has survived, as well as the state in which it can often be found. The goal of the workshop is to explore what historical equipment and practices have to teach us, both about the print cultures of the past and our own today. It asks who the audiences are for this material, the interests they might have, and how we might collaborate more effectively. Bringing together a range of scholars, curators, and printers, it will be an opportunity for network participants to share experiences and best practices, and to develop new approaches to such facilities.
Details about the day, including the programme, can be found here:
http://letterpress.leeds.ac.uk/events/workshop-1/
Registration is free but required. To register, click here:
https://www.eventbrite.co.uk/e/the-state-of-historical-letterpress-tickets-36971438568
'The State of Historical Letterpress Printing' is organized by the AHRC Research Network 'Letterpress Printing: Past, Present, Future' (http://letterpress.leeds.ac.uk/).
The network is a collaboration between the Centre for the Comparative History of Print (Centre CHoP) at the University of Leeds and the Centre for Printing History and Culture at Birmingham City University and the University of Birmingham.
Jim Mussell
Director, Centre CHoP