Flat, shallow? Not at all!
Lithography highlights from the graphic collections at the municipal museums Offenbach am Main
Double exhibition in both of the museums open until 9 July 2017
.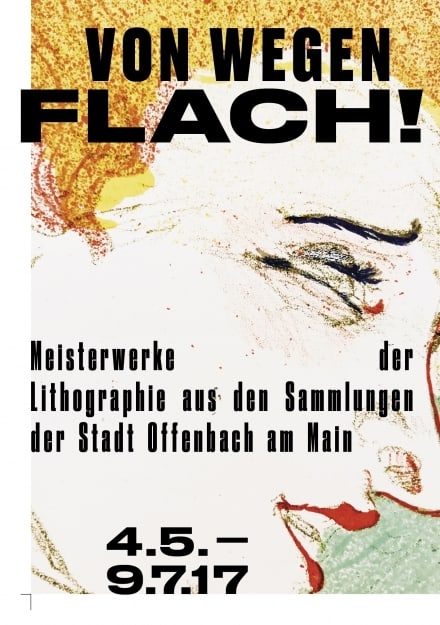 Lithography is a thoroughly Offenbach issue. Nowhere could this graphique technique have been taken up earlier by visual artists. They started to do so just after 1800 when Alois Senefelder (1771-1834) had been given the chance by Johann André of Offenbach, to print his convolute of notations of the music by Wolfgang Amadeus Mozart. The story of how artists in Offenbach took up and explored the techniques with astounding results is really quite remarkable. They demonstrated the variety of expression which were possible, giving printed matter the appearance of either pen or ink drawings, or even painted pictures. An enormous step was made to establish a new dimension of picturing the world and everyday life.
The early part of the story – which can be seen in the History Museum (Haus der Stadtgeschichte) – takes the story from 1800 to 1900, while the Klingspor Museum unveils it's treasures from the Art Nouveau period (posters by Franz von Stuck, Kolo Moser, Peter Behrens, and illustrations by Henri Toulouse-Lautrec), and the decades around the first and second World Wars (works of Beckmann, Slevogt and others), not to mention its more recent livres d'artistes and artist books (1985 – 2010) which offer wonderful examples of the variety of effects which can be achieved with lithography.
Catalogue (in german)  29 €   ISBN 978-3-89739-894-8

Haus der Stadtgeschichte
Herrnstraße 61
63065 Offenbach am Main
Open: Tuesday, Thursday, Friday from 10.00 – 17.00
Wednesday 14.00 – 19.00
Saturday, Sunday 11.00 – 16.00
Klingspor Museum
Herrnstr. 80, 63065 Offenbach
Open: Tuesday, Thursday, Friday 10.00 – 17.00
Wednesday 14.00 – 19.00
Saturday, Sunday 11.00 – 18.00
This post is also available in: German