Early in 2018 we posted a message from Michael Isaachsen, founder and curator of the Melbourne Museum of Printing indicating that the MMOP's collections and activities were under threat. Well, the worst has now come to the worst and the MMOP's entire collection is going to be auctioned off before the end of November. It would appear that everything must go, and not in the best of circumstances because the collection has not been fully catalogued and documented. With the result that over seven hundred and fifty lots will be sold off in a more or less haphazard manner with amazing treasures side by side with cardboard boxes of who knows what. Many items – and not necessarily the oldest – are rare or even unique.
An online sale is being held and will close on the 26th November. You can find details here:
https://www.gollantauctions.com.au/auction-sale-26-november-2019
A live, on-site auction will then take place to liquidate all that remains. Details here:  https://www.gollantauctions.com.au/auction-sale-30-november-2019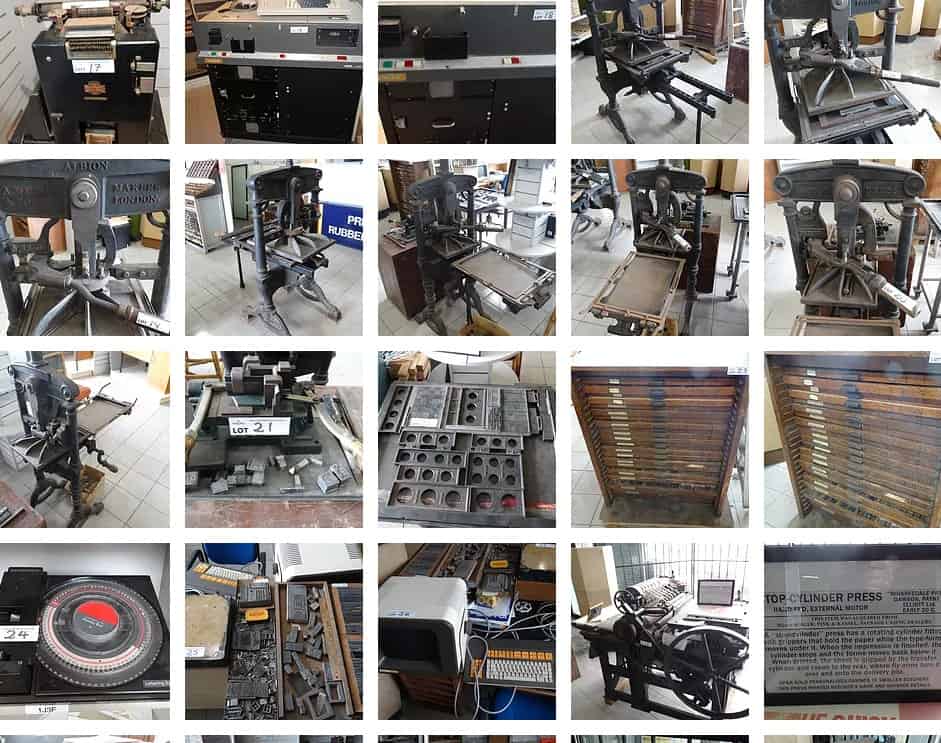 Lots include:
Large quantities of foundry type (including Japanese), wood letter, composing room equipment, composing machines, matrices and accessories (Monotype, Linotype, Intertype, Ludlow, Elrod, Typograph, Minotype), phototypesetting systems (Compugraphic, Linotype, Singer, Varityper), desktop publishing and computer systems (Data general Nova, Apple Macintosh, IBM, HP, etc.), process cameras, metal hand presses (Albion), cylinder presses (Wharfedale), platen presses (Chandler & Price, Diaden, Heidelberg), tabletop presses (Adana, Chandler & Price), proofing presses (Korrex, Ronai, Eickhoff, Vandercook, Western, Thompson), vertical platen presses (Arab, Chandler & Price, Halifax, Miehle, Pearl), inking rollers, small offset presses (Rotaprint, Multigraph), finishing equipment (staplers, guillotines, cornering machines, gold blocking, foil stamping, embossing), office duplicators (Gestetner, Roneo, Marsh, Mimeograph), photcopiers, typewriters (Adler, Brunsviga, Facit, Halda, IBM, Imperial, Monarch, Olivetti, Olympia, Royal, Smith Corona, Underwood, Varityper), Barityper Embossing typewriter, posters, printed ephemera, paper, documentation, trade magazines, manuals… and a telephone exchange switch board.