Promoting the cause of printing heritage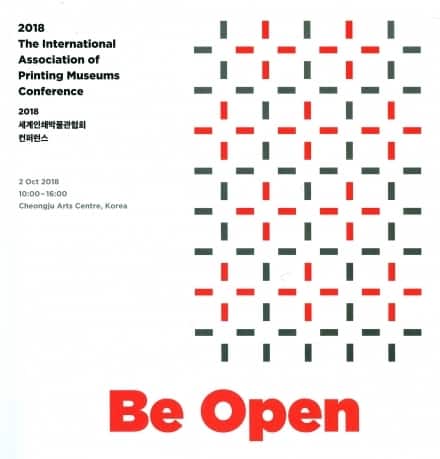 Representatives from fifty-five printing museums and similar organisations involved in printing heritage in twenty-one countries worldwide came together from 2-4 October for an international conference about printing heritage at the invitation of the City of Cheongju in South Korea. Cheongju is the home of the Early Printing Museum, which was set up in 1992 to commemorate the printing in 1377 of the Jikji, a book of Buddhist scriptures, the first book known to have been printed using moveable metal type.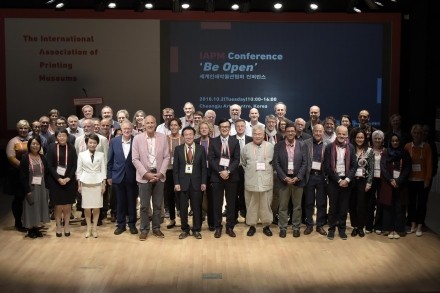 Nine speakers from China, Egypt, Germany, The Netherlands, Singapore, South Korea and the United Kingdom spoke on various aspects of the preservation and transmission of printing heritage and its importance as a resource for understanding the evolution of print culture. (The full programme can be found here.)
The meeting was also the occasion of the official establishment of the International Association of Printing Museums (IAPM) which had been formed on an informal basis at a previous meeting in Cheongju in 2016 with the aim of promoting printing heritage throughout the world. It is hoped that the creation of a global network will help to encourage and support exchanges and collaborations among printing museums and similar organisations and scholars working in the field. The IAPM aleady has numerous representatives from Asia, Australasia, Europe and North America and hopes to extend its members to Eastern Europe and South America in order to be able to offer a forum for the exchange of ideas and practices, and discussions of topics of common interest.
The members of the first managing board of the IAPM (from left to right):
Guy Hutsebaut, Museum Plantin-Moretus (Belgium)
Frédéric Terrier, Les Mille univers, France
Afreen Siddiqui, National College of Arts, Rawalpindi, Pakistan (secretary)
Ahmed Mansour, Bulaq Press Museum, Bibliotheca Alexandrina (Egypt)
Stefan Soltek, Klingspor Museum, Germany
Dan Tait-Jamieson, The Printing Museum, New Zealand (chair)
Alan Marshall, Association of European Printing Museums, Belgium (vice-chair)
Yao Yu Sun, TypesettingSG, Sinagapore