Grolier Club to overhall its exhibition spaces
Beginning in early February 2018 the Exhibition Hall and other ground floor spaces of the Grolier Club will undergo a comprehensive $4.6 million renovation. The grandly-proportioned Exhibition Hall has been the heart of the Grolier Club since the construction of the current clubhouse a century ago, a gathering place for Grolier members and the general public, doing triple-duty as our primary display gallery, our auditorium, and (on the upper balcony) "visible storage" for much of our rare book collection. The Exhibition Hall was last renovated in 1987, and all its systems – display cases, lighting, HVAC, security – are overdue for an upgrade. Designed by Ann Beha Architects, of Boston, the new hall is scheduled to open in early December 2018 with an exhibition celebrating a thousand years of French book arts from the Grolier Club's own collections, and marking the one hundredth birthday of the current Grolier clubhouse at 47 East 60th St.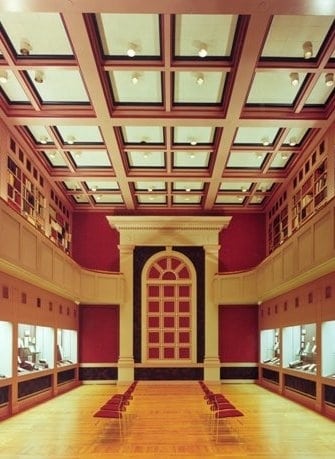 With the exception of a brief period in early February 2018, the Grolier Club will remain open during renovations. Visitors may view exhibitions in our second floor gallery Monday-Saturday, 10 am-5 pm; and the Club will be sponsoring a number of lectures, symposia, and other gatherings at nearby venues while our own auditorium space is unavailable. The Library will provide service by appointment to researchers largely as usual, with a few exceptions and limitations, as outlined below.
Regular updates on renovation progress will be posted on our website (www.grolierclub.org) and our blog (blog.grolierclub.org), as well as via our Facebook, Twitter, and Instagram accounts. We thank you in advance for your patience and support, as the Grolier Club readies its historic building for a second century of lectures, exhibitions, research, and other explorations into the art and history of the book.
Grolier Club Library Access: 2018 Renovation
The Grolier Club Library will remain open and accessible to patrons throughout the pre-renovation and renovation periods. We will be pleased to offer most of our services, however, there will be some impact on Library users. While making every effort to assist you in your research, we anticipate the following restrictions:
–The Library Reading Room will be open for the following reduced hours between Dec. 4, 2017 and Feb. 2, 2018: Tuesdays and Thursdays (10:00-5:00) and Wednesday mornings (10:00-2:00).
–The Library will be closed from Feb. 5-16, 2018 for packing. The Clubhouse and Library will close briefly at some point during the early demolition phase of the project, timing TBA.
–Items for the Library's general collection will be stored onsite and readily available throughout the renovation period. Items from the Library's Rare Book and Archives collections will be stored off-site and must be requested at least one week in advance of the anticipated research visit. Requests for materials from these collections must be limited to 5 items/boxes or less.
–The following materials will be inaccessible during the renovation period: Grolier Club institutional records, serials, and certain archival collections.
–We look forward to continuing offering our reference services during the renovation period. However, responses to queries relating to materials in the Rare Book and Archives collections may take longer than usual, and we may be unable to answer some questions requiring onsultation of Grolier Club institutional records, serials and certain archival collections.
–Due to anticipated delays and difficulties outlined above, The William H. Helfand Fellowship will not be offered in 2018. Class visits will be considered on a more restricted basis than usual.
All questions and requests for materials may be directed to Meghan Constantinou, Librarian, 212-838-6690
Meghan R. Constantinou, M.A., M.L.I.S.
Librarian
The Grolier Club
47 East 60th Street
New York, NY  10022
phone: 212-838-6690 ext. 5
fax: 212-838-2445
www.grolierclub.org