Collotype is a unique technique, but unfortunately almost forgotten. There is a crowdfunding campaign in Germany with the aim of registering collotype with Unesco as a form of intangible cultural heritage in urgent need of preservation, and supporting the few active workshops still in existence. They have three days left to reach their target of 10,000 euros. More information HERE. It is being promoted by Pro LichtDruck who sent us the following message.
Dear international friends,
we are convinced of the quality of collotype products and believe in the cultural and economic potential of collotype.
The 'Queen of reproduction technology', as collotype is also titled, is considered as the first choice for the permanent reproduction and archiving of cultural treasures (facsimile) with this highest reproduction quality and durability.
Collotype is a direct printing process based on the use of photosensitive gelatin. Using an original negative or repro, the gelatin, which is on a glass plate, is exposed to UV light. As a result, a reticulated grain (Runzelkorn) in subtle relief is produced as a print-giving agent. Tone differences can be reproduced without the use of a screen on a variety of materials. The printing forme is a glass plate which can be used on a hand press or on specially designed machines.
Since its heyday around 1900 when there were hundreds of workshops worldwide, collotype printing has almost been forgotten. In addition to active workshops in Kyoto, Beijing, Leipzig and Darmstadt, there are still a few enthusiasts who work with collotype.
We therefore want to register collotype with Unesco as an intangible cultural heritage in urgent need of preservation. With appropriate international support and public relations, people could be inspired to learn the technology again, artists could be convinced again to work with collotype and investors could be found to maintain existing workshops and build new workshops.
In the sense of the thought according to which tradition is not the worship of ashes, but the preservation of fire we hope you will be interested and support the project:
whether by offering financial help with our crowdfunding campaigns,
by supporing the creation of an international network of interested parties and donors,
by supporting ideas for achieving our goals,
by spreading our ideas and projects through your networks.
Any help is welcome, every kind of support takes us a step ahead.
Please take a look at our website for more Information and check if you can join our current crowdfunding campaign on www.startnext.com/prolichtdruck
We have nice thank-you gifts. From buttons, collotype printed certificates, a motto-poster, printing dates in Leipzig and Darmstadt for your own collotype edition. If you need any extra English translation or if you have any questions, please let us know.
Thank you for your support.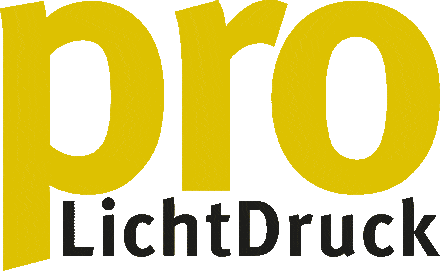 Our best
Nicole & Ralph
ProLichtDruck