Patrick Goossens
Collecting and the true craft of historic printing technology
The talk which Patrick Goossens gave at the AEPM's annual conference, Making history: collectors, collections and the cultural role of printing museums, hosted by the Museum of Typography in Chania in May, is now online HERE.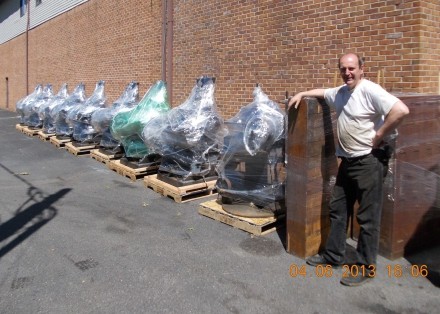 Patrick Goossens has been closely involved with the Plantin-Moretus Museum for many years and is a founding board member of the friends of the museum. He uses historical printing equipment as a research tool to piece together a picture of the past. Hands-on experience of printing and punch cutting (using mainly nineteenth century technology) allows him to learn a little about how new technologies and techniques were introduced in the workspace. Research suggests that some printing houses were more open to technological 'progress' than others. He has also compiled a specialised library to support his research and,
with Bob Oldham, has published a book about the Columbian press, the printing of which was an experiment in itself. Further articles will deal with the prolonged use of the common press, the impact of the introduction of mechanicals presses, and the effect of mechanisation on punch cutting and typecasting and its subsequent effect on type design and printing.
Other talks from the Chania conference already online
Yannis A. Phillis: Printing museums – records of civilization
Alan Marshall: How print became heritage: 150 years of printing museums
Niki Sioki: Outside the printing museum
This post is also available in: French