Aepm annual conference 2017
11-13 May 2017
The Museum of Typography
Chania, Crete (Greece)
Making history:
collections, collectors and the cultural role of printing museums
The next annual conference of the AEPM will look at the various ways in which collections of printing heritage materials become museums:
who collects printing heritage materials?
how is printing heritage transmitted from one generation to the next?
what motivates founders of printing museums?
how do collections become museums?
how can printing heritage be made available to the public?
what forms do independent printing museums take – associations, foundations, privately-owned companies?
what challenges do independent collections and printing museums have to face?
The conference also offers an ideal opportunity to discover some aspects of Greek printing heritage with the help of several distinguished invited speakers.
The conference will take place from 11 to 13 May 2017 and is being hosted by the Museum of Typography, an independent printing museum in Chania on the Greek island of Crete. There will also be sessions at the Centre for Mediterranean Archicture (located on the old harbour front of the town of Chania) and the Regional Press Institute (a purpose-built conference centre in the beautiful Crete countryside, a 20 minute coach ride from the town).
Registration
The cost of registration is 80 euros for members, 120 euros for non-members and covers the conference fee, receptions, lunches, dinner on the Friday evening, local transport and visits. (Information on who can be a member of the AEPM and how to join can be found here.)
People wishing to accompany participants, but who do not wish to attend the conference sessions, can pay a registration fee of 50 euros to take part in the receptions, Friday evening dinner and visits.
Speakers
We are very pleased to be able to announce the invited speakers who will be talking about aspects of Greek Printing heritage:
Yiannis Filis, former dean of the Technical University of Crete (Greece)
Gerry Leonidas, associate professor of typography at the Department of typography and graphic communication, and vice-president of ATypI (United Kingdom)
Klimis Mastoridis, professor of typography & graphic communication, University of Nicosia, Cyprus
George D. Matthiopoulos, lecturer in the Department of graphic design at the School of art and design of the Technological Educational Institute of Athens (Greece)
Konstantinos Staikos, architect, book historian and researcher (Greece)
The full programme of speakers will be announced early February after the closure of the call for papers.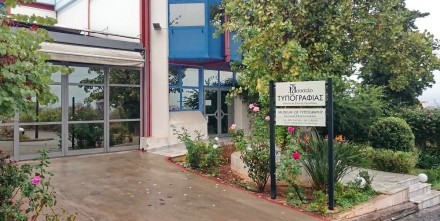 A photo album of the Museum of typography can be found in the AEPM's Flickr gallery.
Practical information
More information about travelling to Chania, about the town itself and possibilities for accommodation can be found HERE.